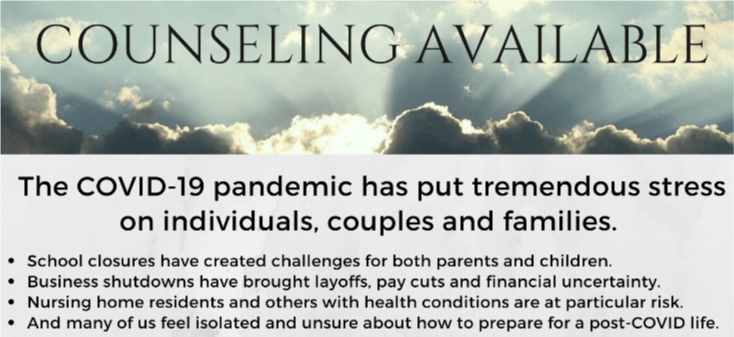 If you have vocational or financial concerns and would like to speak informally and confidentially to a member of the La Crescenta Presbyterian family, we can help. A select team of volunteers has been created to listen to your concerns and help identify and explore options for positive change.
To access this service, contact Kristy Hicks, CV Together coordinator, at or (818) 454-6284, to set up a meeting, virtually or in person, with one of our volunteers.
If you have a need for more formal counseling services, La Canada Presbyterian Church's excellent Lay Counseling Program is now available to our congregation at no cost. This program offers confidential counseling for personal, couple or family relationships strained by anxiety, mild depression, self-esteem, substance abuse, life transitions, personal growth, and financial or vocational issues. Often, the issues are addressed over 10 to 12 sessions with a well-trained lay counselor with specific experience related to your need. The lay counselors can also make referrals for clients who require professional psycho-pathological or medical intervention.
To access this service, call the Lay Counseling Office at (818) 797-6758 ext. 430 and leave a message. An intake administrator will contact you, answer questions about the program and assess your need to provide the best available counselor to work with you. While in-person meetings are not available currently, phone or internet-enabled communication channels will be used — whatever you are comfortable with. Lay Counseling Program appointments will be determined by counselor availability.
If you or someone you know is in a potentially life-threatening situation, please call 911 for immediate assistance.
If you are feeling stressed and could use some help, please reach out and take advantage of these opportunities.
Cast your cares on the Lord and he will sustain you. — Psalm 55:22
Our purpose: To help people in the church family and wider community who are home-bound or need special assistance.
We're working to coordinate with services already offered by our Deacons and staff as well as groups in the wider community.
We expect CV Together to live on long after the coronavirus crisis!
Services Offered: During the crisis we will…
Deliver groceries, prescriptions drugs, or other necessities
Provide "phone buddies" to LCPC seniors and others desiring a periodic check-in (to assess needs and offer fellowship and prayer)
Provide other support as needs emerge and resources permit
Funding:
Needs will be great especially among those who have lost jobs
We've created a new dedicated account for this purpose - please consider offering a gift!
To be effective and keep people safe as we serve, we will:
Provide service and safety guidelines to all volunteers
Use gloves and disinfectant and maintain safe physical distances when we deliver food or visit

Stay home if we or anyone we live with is sick