CHILDREN'S PROGRAMMING - ON LINE
"Fall Faith and Fam!"
During this time of social distancing, Children's Ministries will continue to offer weekly videos in place of Sunday School and FISH. But we also want to encourage families to worship and learn God's Word together through games, art, music and more. So we are creating an at home program called "Fall Faith and Fam!" Families who want to participate will receive a "Fall Faith Box" filled with items you will need for a variety of games, crafts and science experiments, all of which connect to weekly devotionals that reinforce what we are teaching in the videos. You can sign up to receive your Fall Faith Box at bit.ly/lcpcFFF All those registered by August 5, will receive their first box by August 10th. Please feel free to email with any questions.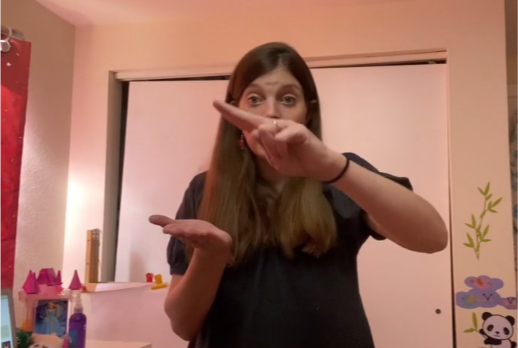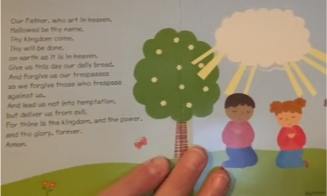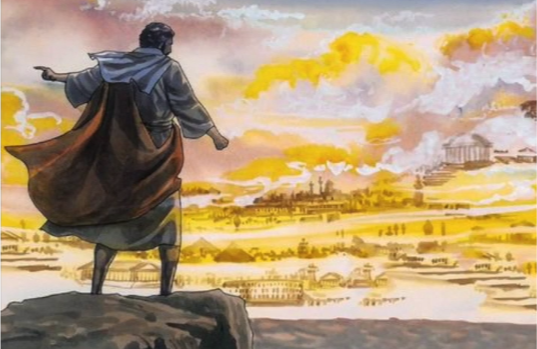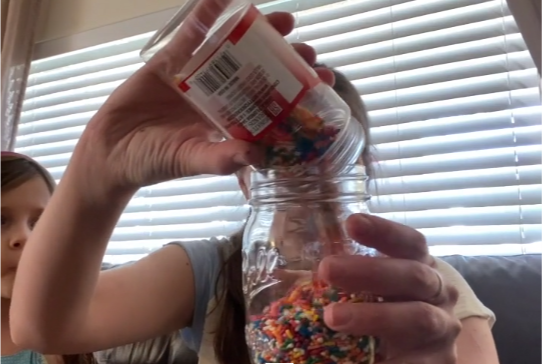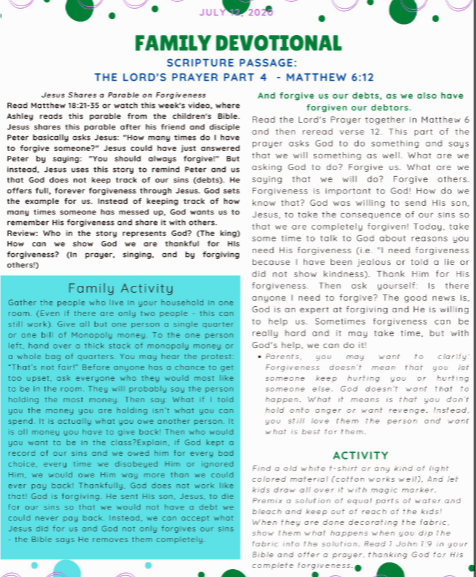 I hope you are enjoying this 4th of July with your family and finding hope and joy in Christ during these difficult times! This week, I have written our standard devotional but instead of a chapel video, I want to share with you a video that details one of the Bible passages referenced in the devotional. It focuses on God providing manna to the Israelites in the desert. The usual chapel videos will be back next Sunday. Family issues prevented me from getting it filmed this week. I am sorry about that and appreciate your understanding.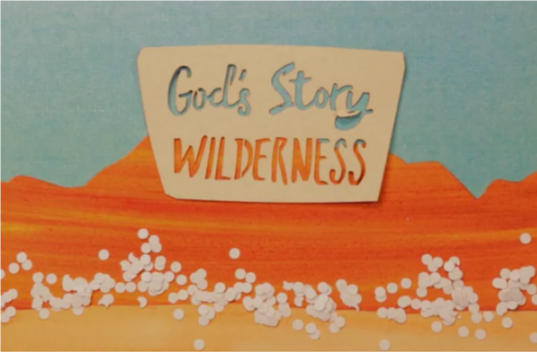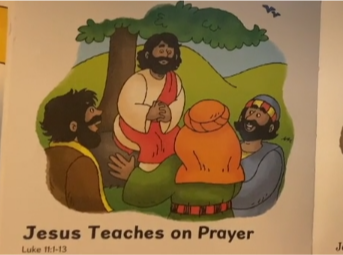 Dear Parents,
We are beginning a new video series on the Lord's Prayer, in conjunction with the sermon series that Lee is currently preaching on Sunday mornings. It seemed appropriate for the devotional on Father's Day weekend to focus on the opening words: "Our Father in Heaven, hallowed be thy name." This verse from Matthew 6:9 is what kids are challenged to memorize this week for our Summer Scripture Challenge. I pray that as we look at this familiar prayer, we will come to know God better and recognize the desire He has for us to build His kingdom with love and grace and justice.
Happy Father's Day to all the dads and grandads out there! I have attached a little Father's Day fill in the blank that might be fun for your family.
In Christ,
Ashley Pollock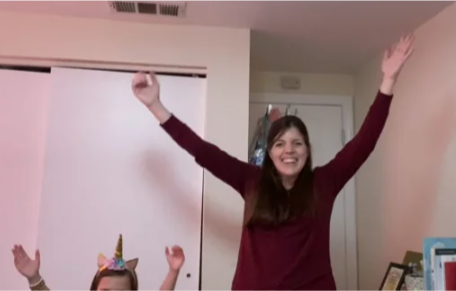 Our VBS registration link is up! Don't miss our Children's Ministries first ever virtual VBS! This year's VBS is called BOLT and will be open to all children ages 4 through incoming 6th graders beginning on July 13. For the first time in a long time, VBS will be completely free! All registrations will all take place online for the three day program and families who register will have access to videos featuring familiar faces, craft and game ideas and devotional lessons. Children's Ministries will hand deliver boxes of necessary supplies to the homes of participants (no contact delivery - don't worry) and we will have a Facebook Live VBS each morning from the 13-15th. Parents will be able to access all videos until August 13th. While this is very different from past years, we are excited to offer this fun chance for kids to connect with Jesus in the safety and comfort of their own home. You can register at bit.ly/lcpcvbs2020!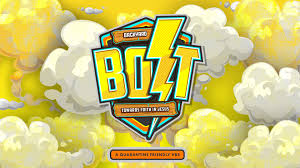 LCPC is holding in person services tomorrow (6/14) for the first time since March. The safety guidelines for the service are available on our facebook page or at lcpc.net. I just want to be clear that there will not be children's programming or nursery care. While Kristy and I miss the kids and would love time with them, the state guidelines are clear that children should remain with their family units during worship services. Kristy and I take these guidelines seriously and we have put together our own plan for resuming programming. As soon as our plan is approved, I will send it out to all of you. But for now, please know that there will not be Sunday School or FISH and the nursery will be closed. I will continue sending videos and devotion links each week. This week's video link is below.
Dear Parents,
It has been another difficult week in our world. I thought and prayed a lot about what to share with our church family this week. The topic of racial reconciliation can be uncomfortable, not to mention hard to explain to young children. There are many good resources out there for us as parents from people with more wisdom and experience than me. There are some links you can check out below. That said, I do hope this week's chapel can help kids understand that a person's race in no way changes how much God loves or values them. The Bible makes it clear that God made all people in His image. He did not make us all to look the same but He does offer the same amazing love and assigns the same tremendous value to every person. To truly follow Him, we should strive to do the same. As I said, I am no expert and I am on a journey of my own. But I hope we can all act justly, love mercy and to walk humbly with our God (Micah 6:8).
In Christ,
Ashley Pollock
Dear Parents,
This has been a difficult week and, if you are like me, you have been intensely reminded of the world's brokenness. I will not pretend to be an expert on the best ways to talk to young children about this week's events or the problem of systemic racism. I am praying and struggling to figure it out myself. Two things I know for sure and that I want my children to know for sure: 1) God loves and values all His children and that love and that value do not change based on the color of someone's skin. 2) As Christians, we are called to love our neighbor and an important way to do that is to support and stand up for those who are devalued, those who are hurt and those who are scared. Sometimes children give us the best examples of how to do that.
This week's video and devotion focus on the early church. The early church was a group of believers who were willing to sacrifice for Jesus and for each other. I am always inspired when I read about the early church in the book of Acts. I am praying for your families and I am available if you or your child would like to talk or pray.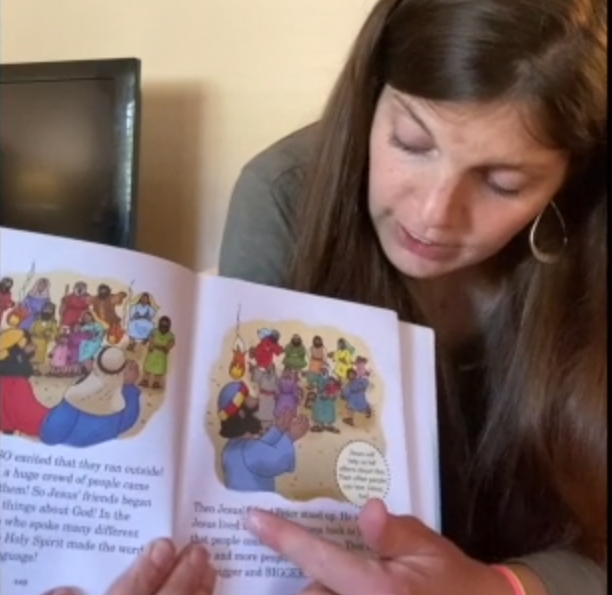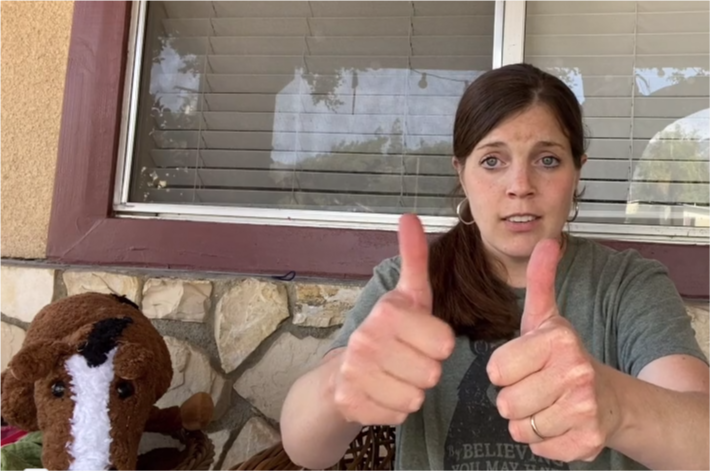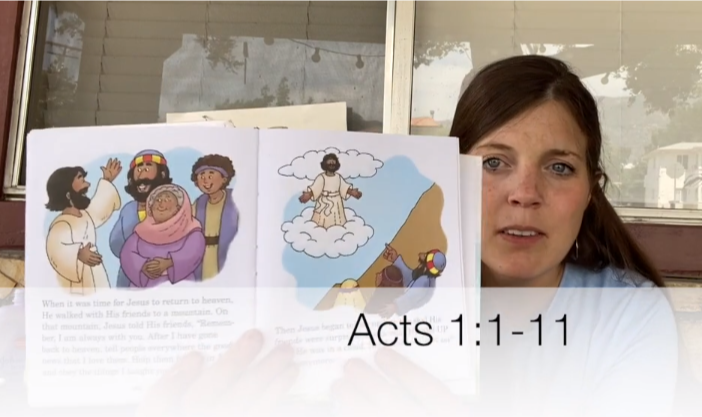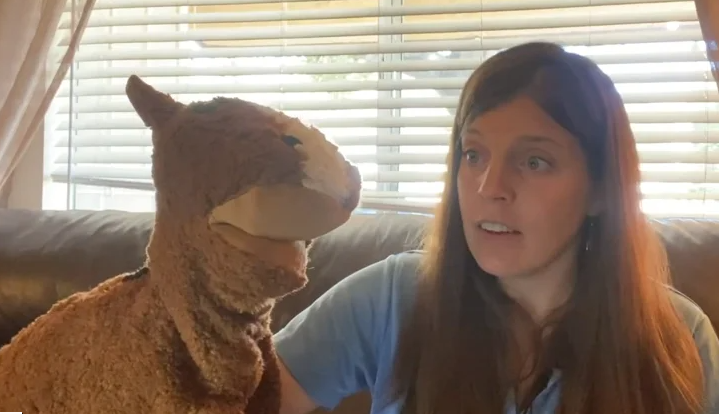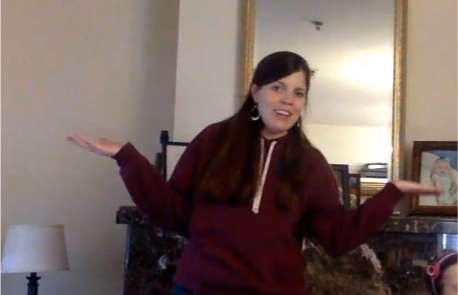 We know that this is a hard time for everyone – the whole structure of life has changed for us. But we are still here if you or your children want to talk or cry or even tell us about FortNite or Roblox. And remember, there is one thing that never changes and that is God. Hebrews 13:8 says: Jesus Christ is the same yesterday and today and forever. He loved you last month before all this craziness and He loves you now. He was with you to help you and hear you and give you the courage to get through hard things back then and He is still with you now.
We cannot meet in person but Children's Ministry leaders still want to stay connected. Kids, we miss you! Here are some ways we hope to stay connected:
1) Each week, I will be posting a family devotional on the website blog page as well as emailing it out. The devotional will include a scripture passage and some game and art ideas to do as a family. This week's devotional is attached.
2) Kristy and I are setting up two Google Hangout times a week where your child can join us to catch up, play games and have Bible Q&A or prayer request time. The hangouts will take place on Tuesdays and Thursdays from 4-4:30PM. At 3:30PM each day, parents on our email list will receive a link that their child can click on to join the hangout. As a mom, I understand that internet safety is a top priority. Children will be asked not share any photos while on the hangout and parents will be encouraged to monitor their device during that 30 minute period.
3) The Easter Art Gallery we had planned for the narthex is now going to be a virtual Easter Art Gallery. Children are encouraged to take some time during Lent to create a sketch, painting, collage, poem, sculpture etc. that connects to the Easter story and then send their art via email (scan and send) to . We will feature it on the LCPC website to celebrate Easter.
That's what we have planned for right now! The church also has formed an outreach team to help you during this time. If you need someone to talk to or pray with, or need someone to pick up your prescription, you can click HERE to connect online. If you have any ideas as to what else would be helpful, please let me know. And, please know that we are praying for you. If your child would like to call or text to talk or pray, they can reach me on my cell at 858.722.0889.
Love in Christ,
Ashley Pollock
When We Return!!!
At each Sunday morning service we have three programs running for children:
Infants and toddlers are welcomed into the nursery for a fun hour of music, stories, play and plenty of nurturing hugs from our wonderful child care providers – Jenna and Elizabeth.

Children in pre-school and kindergarten meet in room 102and 101, respectively, for Sunday school. Each week our rotation of loving and capable teachers leads the children in story time, a craft that connects to the lesson, games, sensory tables and prayer. Parents are also encouraged to follow up on the lesson at home with monthly prayer stickers.

Last but not least, all 1st-6th graders can come to F.I.S.H.! F.I.S.H. (First I Serve Him) combines elements of music, drama, puppetry, and small group study and prayer. The program aims to be interactive and provide easy applications of each week's lesson. All children are dismissed from the sanctuary down into Koopmans Hall for large group. Throughout the school year, they move into classrooms 201, 202 and 204 for a small group time, where they read right from the Bible, are encouraged to ask questions and play games that incorporate the main idea of that week's lesson.
PEAK Night – Mid Week Program
Praise and Education for Adults and Kids (PEAK) takes place Wednesday evenings at 6:30 pm with the following programs for Children:
The Tiny Turtles (0-2 year olds)
Our adorable Tiny Turtles meet in the nursery where they are cared for by our fantastic teen nursery workers – Allie Fernandez and Sarah Milbrodt. Both girls have experience working with young children, have taken a CPR class and make sure to provide stories, music and plenty of love for our youngest PEAK-goers.
Lively Lambs (3 year olds-kindergarten)
The Lively Lambs (and they are lively in the best possible way) meet in room 101. Each week the children have Bible story time, outdoor play, art and even a special music class.
Fast Frogs (1st-3rd graders)
Our Fast Frogs meet in room 204 and begin the evening with table activities, followed by interactive Bible story telling. After the story, the teacher leads a discussion on what we can learn from the scripture and how it applies to the children's lives. This application is reinforced through games and crafts. Our "frogs" learn worship music and also have the opportunity to share on Sunday mornings throughout the year. To conclude the evening, there are snacks and recreation time on the basketball court.
SPARKS (4th-6th graders)
Our SPARKS are led by Mary Wilson and a devoted team of volunteers. The SPARKS begin PEAK on the basketball court and then move into the Fireside Room for a time of worship, scripture reading, skits and small group activities. Also, keep an eye out for fun SPARKS events like our Backwards Dinner, SPARKS in the DARK Night Games and movie nights!